The Honda CB500X is finally here, but with such a steep price tag, it must answer some big questions.
The CB500X is the type of bike you can't hate no matter what flavor of bike you like. Born in 2014 as a versatile road-focused tourer, the bike received a major update in 2019, which introduced sharper styling, a larger 19-inch front wheel, and a bit more suspension travel.
With its straightforward, user-friendly and competent character, the CB500X is proving to be the ideal type of bike for our road conditions and motorcycle aspirations. We only spent three hours with the bike, so this isn't a full review of its riding abilities, but rather a general overview of what to expect from this machine.
Honda CB500X: Hardware and Features
Speaking of first looks, the CB500X makes a great initial impression as its size and proportions are perfect – neither too big nor too small. The angular bodywork and all-around LED lighting give it a premium look and feel. Both available paint schemes look smart, but unfortunately we don't get this delicious Pearl Metalloid White in India. The seat height is 830mm, but it feels quite accessible as the saddle is thinned out near the 17.7 liter fuel tank and the bike doesn't have an exaggerated feel of superior heaviness which can make big ADVs intimidating. . I imagine anyone over 5ft 6in should feel relatively comfortable with the height of this bike.
Instead of a flashy TFT, you get a rather small and simple negative LCD screen.
The trim levels and quality all around are good, but there is no escaping the feeling that the CB500X was built for profitability. The fork isn't upside down, the swingarm is a simple square section unit, and instead of a flashy TFT you get a rather small and simple negative LCD display; however, it displays the essential information that you would need. It's a similar story with electronic assists and there's no traction control, quickshifter, or cornering ABS here.
Nevertheless, the comfort is excellent, with a very spacious saddle and an upright riding position. The windshield works well and it is adjustable, but you will need to loosen a few bolts to do so.
The windshield works well and is adjustable, but you will need to loosen a few bolts to do so.
Honda CB500X: Engine
The CB500X uses a 471cc parallel twin that produces 47.5bhp and 43.2Nm. Those are pretty humble numbers on paper, but the engine is pretty impressive in person. Power delivery is absolutely linear and the low-end / mid-range is surprisingly encouraging for first-speed wheelies. The engine is also very manoeuvrable and you will find yourself in sixth gear well below 60 km / h.
The engine sound and feel is reminiscent of the Kawasaki 650s, but the Honda has a bit more character, thanks to a deeper exhaust note and occasional pops and hums. Fuel delivery and throttle response are generally smooth, although opening and closing the throttle at low speeds is slightly jerky.
Refinement levels are generally good and you only start to feel vibrations if you spin the bike towards its 8750 RPM redline. At this point, the bars and footrests start to vibrate quite strongly, and you realize that the best way to ride this bike is to ride high speeds, medium and short.
The 6-speed transmission shifts with a positive feel and a slip clutch helps downshift more smoothly. Just from the touch of things I suspect the acceleration numbers should be in the KTM 390 Adventure stage, but that's something to be confirmed when we get the bike back for a full review.
Honda CB500X: Driving
Up to the effortless performance, a chassis to get along with is a snap. The bike feels lighter than its 199kg curb weight would suggest, and there are plenty of steering locks available. Take into account the maneuverable nature of the motor and lightweight clutch, and this is a fairly easy-going bike in urban conditions. We'll have to spend more time with it to determine if it's producing significant heat, but it's a bike you can easily get around on if you want to.
On an open road cruising at 100 km / h is completely relaxed and while we never got to try this the CB500X should be relatively comfortable even at 120-130 km / h. All kinds of bad roads are handled very well and the suspension setup is pretty mellow. One complaint was that the rear shock exhibits a tendency to bounce a bit excessively on heavy road waves. The suspension is preloadable at both ends, so playing around with the settings at the rear can help to some extent, but I'm not sure if that will resolve this behavior completely.
Head down a winding road and the CB500X continues to behave in a simple and neutral manner. It doesn't take a lot of effort to spin the bike and there's plenty of lean angle available, probably more than you'll ever use. The bike can go through bends at a fast pace, but it doesn't appreciate being ridden too aggressively. Do that and you'll find that the rear, again, can get messed up with bumps in the middle of the bends, which isn't a pleasant feeling. The Dunlop Trailmax tires also seem a bit vague at the limit, but for the most part they performed well on the road. The brakes are good too, although you do have to get used to some front suspension dive when braking hard.
With a ground clearance of 181mm, the CB500X will not hesitate to stray from the tarmac and you can take this bike to quite isolated places. It has the suspension cool to do a few light jumps, but it's best not to get too excitable, as there isn't a large amount of suspension travel – 150mm and 135mm up front and at the rear, respectively. It's more than your typical road bike, but a lot less than a full ADV. Other clues to the Honda's capabilities come in the form of rubber footrests, the lack of a skid plate, and the inability to deactivate the rear ABS without pulling a fuse.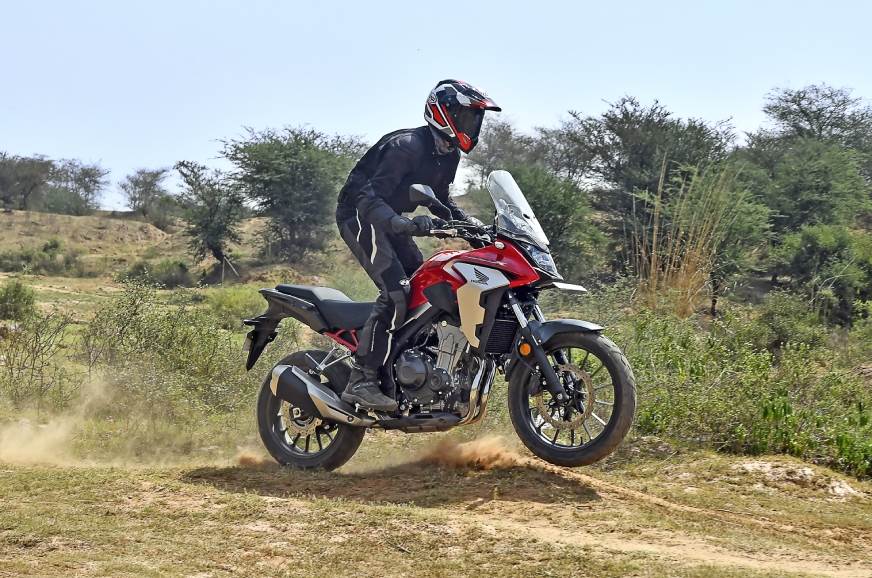 Honda CB500X: verdict
There was never any question that this bike would make a lot of sense for our market. Having finally ridden one, I see what the hype is about, and it's a really sweet and friendly motorcycle. With its effortless nature, punchy but not intimidating performance, and excellent badge value, the CB500X is the ideal first large adventure bike for the average Indian enthusiast.
Sadly, Honda priced this CKD motorcycle much higher than expected, and many dreams were shattered in the process. As beautiful as it is, it's hard to justify a price tag so close to the excellent Kawasaki Versys 650 – a motorcycle that is undoubtedly heavier, both in person and on the pocket to maintain, but a motorcycle that is. also undoubtedly in a segment above.
Along with so many others, I hope Honda will redouble its efforts to give the CB500X the localization effort it deserves and lower the price to a more reasonable level. If and when they do, it will have a very bright future in our market.