Tyrone won his fourth All-Ireland football title as goals from Cathal McShane and Darren McCurry saw Mayo wait 70 years for Sam Maguire.
Ryan O'Donoghue's missed penalty just after half-time was one of four scoring chances spoiled by Mayo.
It happened after the Red Hands led 0-10 to 0-8 at halftime.
On the other hand, Tyrone clinically grabbed his opportunities as McShane won a long ball before Conor McKenna hit Darren McCurry at the net.
McShane's substitute goal came moments after his introduction and shortly after O'Donoghue's failed penalty – who had followed Tommy Conroy blazing another glorious three-point opportunity from Mayo.
In the end, Mayo's panic had long set in, as poor decision-making and naive tactics only added to their misery of suffering an 11th All-Ireland final loss since their last triumph in 1951.
For Tyrone only joy
But for Tyrone, there was nothing but joy as their 2-14 to 0-15 triumph earned the county their first All-Ireland triumph since 2008 as co-managers Feargal Logan and Brian Dooher took them on. guided to the title during their first year in charge – corresponding Mickey Harte's Achievement in 2003.
It's an extraordinary triumph for a Red Hand team shot down by a Covid-19 outbreak just over a month ago that at one point threatened their participation in the All-Ireland semi-final against Kerry .
But the red hands regrouped from that to knock out the kingdom and Saturday's decider's scheme was no different than the semi-final as Mayo quickly began to run into dead ends after a promising start.
Tyrone's turnover became the main feature of the competition as he was in full swing, which was best exemplified by McCurry's final goal in the 58th minute after Conn Kilpatrick set up Conor McKenna on the charge that delivered a lookless perfect. pass for the front corner of the palm to the net.
Tactically, the game represented another triumph for Tyrone's management, as their decision to remove influential Mattie Donnelly and put McShane in the 44th minute was vindicated within moments, with the substitute cleverly deflecting Conor Meyler's high ball. in front of a blocked Rob Hennelly.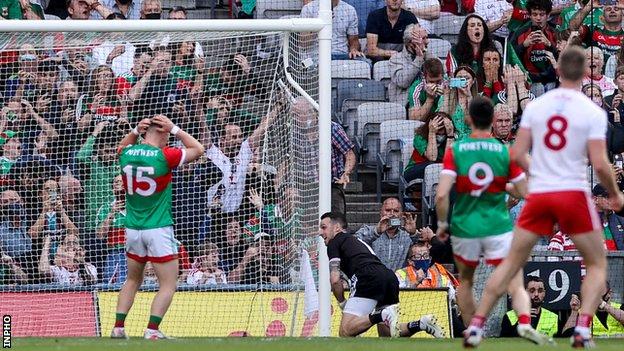 Mayo's curse continues
As Saturday's final approached, Dr Mick Loftus, one of only two surviving members of Mayo's victorious team in 1951, had scoffed at any suggestion of the curse that would have plagued the county at the level. from all over Ireland from them.
However, once again just about everything that could have gone wrong for James Horan's side has happened on the biggest stage in Gaelic football.
Conroy's point after Aidan O'Shea's midfielder recovered from the throw-in gave Mayo an immediate lead which was added by a free O'Donoghue in the sixth minute, but Niall's 50 yards Morgan allowed Tyrone to score moments later and they never really looked back – helped by the opposition's dismal finish.
Captain Padraig's scores Hampsey and McCurry had given Tyrone a 0-3 to 0-2 lead when Conor Loftus – a great nephew of Dr Mick – failed to grab Mayo's first scoring opportunity at the time. that his point-blank soccer effort was shot towards Niall Sludden's stomach after Bryan Walsh's initial effort was blocked.
Mayo's second chance for a missed goal came when Tyrone led 0-5 to 0-4 as skipper O'Shea was denied by Ronan McNamee's superb block after Niall Morgan left his goals unattended. The afternoon didn't improve much for O'Shea afterwards.
As Mayo began to struggle to find space against Tyrone's stifling defense, they managed to stay on good terms as Paddy Durcan pointed out the game's equalizer 0-5 to 0-5 in the 22nd minute, but it only caused the red hands to produce a rapid burst of three scores.
It could be even better for Tyrone at this point, with McCurry failing to beat Hennelly at close range with a glorious scoring chance, but Morgan – whose capture to quell an attack from Mayo had set the motion up – Cushioned the blow by pointing the 45 to put the red hands 0-8 to 0-5 up.
Conroy and O'Donoghue miss crucial opportunities
Mayo kept in touch 0-10 to 0-8 late at half-time and key moments of the game from their perspective came quickly after the break as Conroy extended his scoring chance before he an O'Donoghue only cuts the outside of the right right with his penalty.
Psychologically, the missed penalty seemed like a huge moment as Tyrone's Frank Burns was not punished after recovering the ball in his own small square after a scramble across the goal line.
A free Hennelly cut the margin to a minimum over 45 minutes, but within 60 seconds McShane had nibbled at the other end to rub more salt into Mayo's injuries.
Mayo frantically tried to keep in touch as O'Donoghue and Kevin McLoughlin's scores reduced the lead to two after 57 minutes.
But from the resulting kick after McLoughlin's point, Tyrone shaped McCurry's decisive goal after the brilliant work of Kilpatrick and McKenna.
Lee Keegan and O'Donoghue's points left the ball kicking between the sides in the 61st minute as Mayo struggled to stay in the game despite Tyrone still looking in firm control.
However, it was as close as the Connacht champions reached the finals as the scores of Peter Harte, lively substitute Darragh Canavan, McCurry and Morgan firmly shut the door on Mayo, who finished the game with 14 men. after Matthew Ruane's red card following an entanglement with Kilpatrick.
Mayo: R Hennelly (0-1); P O'Hora, L Keegan (0-1), M Plunkett; P Durcan (0-1), S Coen (0-1), O Mullin; M Ruane, C Loftus; D O'Connor, A O'Shea, B Walsh; K McLoughlin (0-1), T Conroy (0-2), R O'Donoghue (0-8). Subscribers: E Hession for Plunkett at half time, J Flynn for O'Hora 52, D Coen for Walsh 61, A Orme for Loftus 68, J Carr for McLoughlin 74
Tyron: N Morgan (0-3); M McKernan, R McNamee, P Hampsey (0-1); F Burns, P Harte (0-1), K McGeary (0-1); B Kennedy, C Kilpatrick; C Meyler, M O'Neill, N Sludden (0-1); D McCurry (1-4), M Donnelly (0-1), C McKenna (0-1). Subscribers: C McShane (1-0) for Donnelly 44, D Canavan (0-1) for O'Neill 53, B McDonnell for Kennedy 56, P Donaghy for McKenna 68, T McCann for Kilpatrick 73.
Arbitrator: Joe McQuillan (Cavan)